As a periodontal practice, we are specialists in treating gum and bone tissue surrounding your teeth. We are also experts in replacing your lost teeth with dental implants. Our periodontal services include gum disease treatment, bone grafting, gum grafting, wisdom teeth removal and dental implant surgery.
Our commitment to our patients is to provide the best possible periodontal care, utilizing the most advanced technology and minimally invasive procedures. Our advanced technology including CBCT, digital scans, guided implant surgery make your treatment efficient with better outcomes.
Our team is professional, experienced and highly knowledgeable with years of experience in the field. The team is led by Dr. Sunny K Tilwani who is a board certified periodontist and implantologist.
We work very hard to cultivate a comfortable, relaxing atmosphere for our patients. We always take time to listen and understand your concerns and explain everything thoroughly. You will always be a part of decision making. Dr. Tilwani creates a customized treatment plan for every patient, because he believes every case is unique.
We also have sedation options for our patients with anxiety and to help you feel relaxed during your appointment. We want your experience to be as positive as possible!
Dr. Sunny Tilwani
Diplomat, American Academy of Periodontology
Dr. Tilwani is a Board Certified Periodontist and Oral Implantologist. He graduated from Post-doctoral Periodontics and Implantology program at the prestigious Boston University. He then underwent extensive training in all aspects of periodontal therapy and implant dentistry.
Dr. Tilwani has always been passionate about teaching the next generation of dental professionals, so he joined the University of Illinois at Chicago as a Clinical Periodontology Professor. He has presented scientific papers at both national and international conferences and has been actively involved in research with special interest in bone regeneration techniques. For the last 5 years, he maintained a private practice at the university and has specialized training in comprehensive cases.
He is an esteemed invited member of the International College of Dentists (ICD). He is also an active member of American Academy of Periodontology (AAP) and American Dental Association (ADA).
Dr. Tilwani is committed to bring the latest techniques and procedures through continuing education and strives to provide highest quality periodontal care for all his patients. He truly believes each patient is unique and deserves an individualized treatment approach.
Dr. Tilwani strongly believes in providing individualized, patient-centered care based on each patient's unique needs for optimal outcomes. He welcomes new patients and the practice accepts most major dental insurance plans.
Heather V.
Patient Care/Marketing
Heather grew up in the Dallas area. She has been in the dental field for 20 years and loves working with people. Her strong customer service skills help her to provide the very best care for our patients. Heather lives in the Richardson area and in her free time she loves traveling, cooking and watching her daughter play soccer!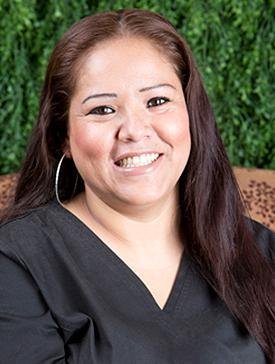 Jackie Gonzalez
Surgical Assistant
Jaquelin has been in the dental field for 16 years. She enjoys all aspects and loves helping others. Jaquelin has experience in periodontal practices working as a surgical assistant. Being bilingual helps assist her patients understanding the clinical aspects of their treatment.
Jaquelin is originally from Mexico and grew up in Dallas. She presently lives in Dallas with her two children, Maritza and Gustavito. In her free time, Jacquelin enjoys spending time with her family and friends.